What did you think of this game?
Debby's Birthday game
Puzzle, Skill, Difference, Fun
Debby's Birthday game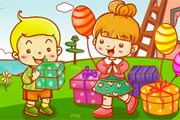 Debby woke up early in this morning because it is her birthday She set an amazing table for her friends, and decorated the sitting room. All she has to do is check if everything is okay Find the differences between the two pictures and help Debby on her birthday
This game does not yet have any comments!