What did you think of this game?
Dream Roller Coaster game
Action, Jump n run
Dream Roller Coaster game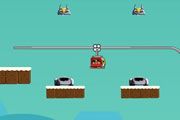 Would you like to play adventurous roller coaster Dream roller costar combines wisdom and adventure. While experiencing the incitement of roller coaster, you should shun all kinds of barriers calmly by using your wisdom. Come on Challenge to dream roller coaster. Look forwards to your wonderful performance. Who will be the wisest king of adventure Enjoy yourself
This game does not yet have any comments!