What did you think of this game?
Fair-haired Princess
Princess, Fairy, Dress up, Make up
Fair-haired Princess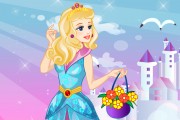 This Fairhaired Princess is so beautiful that everybody mixes her up with a fairy tale princesses Wanna meet her If you want, I can introduce you to her. Well, believe me shell inspire you with her beauty and goodness Come on...
This game does not yet have any comments!