What did you think of this game?
Fashion Foot Nails
Manicure, Pedicure, Nail
Fashion Foot Nails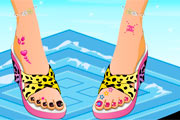 Lauren has decided to go swimming but she has to get a pedicure before that. She wants to have gorgeous toenails to have a complete look Do you think you can help her

This game does not yet have any comments!