What did you think of this game?
Garden Inventor game
Action, Strategy, Tower defense, Animal, Exclusive
Garden Inventor game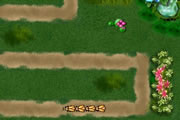 The goal of the game is to kill the creeps before they reach the end of the maze. In order to stop the garden pest you have to build defense gadgets along the way of the invaders. Defense gadgets will fire automatically once the creeps enter the firing r
This game does not yet have any comments!