What did you think of this game?
Gift For Boyfriend
Puzzle, Adventure, Love
Gift For Boyfriend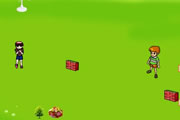 The girl needs to give a present to her boyfriend. But she must select a suitable route to reach him. In each level there are obstacles or barriers like teachers, parents, walls, flower desk etc. So please find the suitable route within required time frame to deliver the present
This game does not yet have any comments!