What did you think of this game?
Happy Farm game
Animal, Pet, Farm, Horse, Skill, Puzzle
Happy Farm game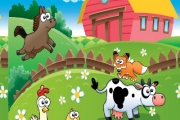 Here is a farm where you can feel yourself calm and happy We called here Happy Farm. Come on, lets go there together and play lots of amazing games Believe me, well have so much fun today together in Happy Farm with the cutest animals ever
This game does not yet have any comments!