What did you think of this game?
It's My Cheese game
Pet, Animal, Cat, Kissing, Action
It's My Cheese game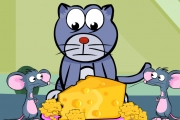 Hi, Im a little kitty My mom always feeds me this delicious cheese and I love eating it. But today there are two mouses wanting to take it, even though I dont want to share it with them Please help me protect my cheese while Im looking other things Because Its my cheese
This game does not yet have any comments!