What did you think of this game?
Justin Bieber Makeover
Celebrity, Boy, Make up
Justin Bieber Makeover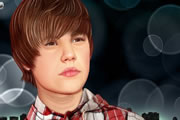 Even male superstars get makeovers before they appear live on stage or on TV. Justin Bieber is no different, he needs you to give him the coolest makeover possible so all the girls will adore him. He will be interviewed live on TV in front of millions of people so its important that he looks his best. Do you think you can help him look his best
This game does not yet have any comments!