What did you think of this game?
Kung Fu Princess
Princess, Dress up, Action, Skill, Sports
Kung Fu Princess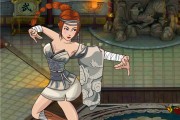 Being a Kung Fu princess is really hard but still a cool thing to be. Wondering why Because you look so smart, tough and charming in the meantime But dont forget mastering this art Because to be a Kung Fu Princess you need to be unbeatable So you need to patience, concentration and a good taste in fashion
This game does not yet have any comments!