What did you think of this game?
Love Quest
Puzzle, Love, Match three, Visual matcing
Love Quest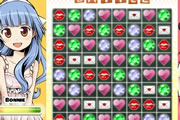 Love Quest is an original Valentines Day game similar to Puzzle Quest. Help Bonnie to win Kevins love, facing all the girls who want to go out with him. Move the items on the board to make lethal combinations
This game does not yet have any comments!