What did you think of this game?
Luna's Magic Flower Shop game
Job, Fairy, Magic, Skill
Luna's Magic Flower Shop game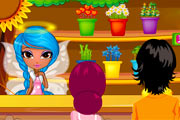 Luna is a rose fairy and she has a magic flowers shop. But her shop is situated in a busy street and she has difficulty in managing it so she needs your friendly help. Your objective is to pick the right roses for each customer. You will first go to garden, check the orders, water the right roses and go back to pack them. Dont forget to get rid of the bugs they will make the flowers grow slowly. Good luck
This game does not yet have any comments!