What did you think of this game?
Miss Junior High
Make up, Care, Dress up, School
Miss Junior High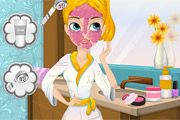 Beauty is a hard thing because being a beautiful and wellgroomed girl requires a lot Scrubs, masks, makeovers etc. ... Well, but if you are in high school and if you are a junior, you need to be careful about your appearance Jane is really good at this thing lets get some help from her
This game does not yet have any comments!