What did you think of this game?
My Cute Baby game
Dress up, Baby
My Cute Baby game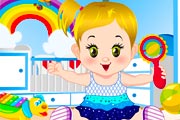 Babies need care and attention. You can make your cute baby happy with warm clothes, funny toys and a clean atmosphere. Are you good enough to make your baby girl or boy smile
This game does not yet have any comments!