What did you think of this game?
Nanny Nelly game
Sim, Job, Babysitting, Baby
Nanny Nelly game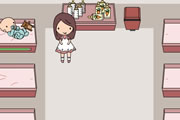 In this game you will take care of a nice baby. You have to play with the baby, feed her, bathe her and much more. If you click on the baby you can see if she is healthy and happy. You can earn money by taking good care of the baby. With the money you can buy new things for the baby. This way you can make your baby the happiest child on the planet In level two and up, there are more babies to take care of. Im sure you can manage this job, too.