What did you think of this game?
Pets Honey Girl
Pet, Cat, Dog, Animal, Dress up, Fun
Pets Honey Girl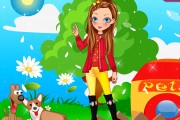 Hi I am Tina, I love pets so much that I always go and feed them everyday I heard that you love them so much, too Then, why dont you come with me Believe me well have so much fun together. I am waiting for you, now go and get dressed.
This game does not yet have any comments!