What did you think of this game?
Pretty Christmas Girl
Make up, Dress up, Christmas, Holiday
Pretty Christmas Girl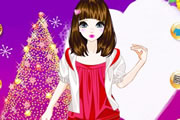 Jingle bells, jingle bells, jingle all the way, Wow, Christmas is coming. What a great time Alice is going to dress herself up and make over to welcome Santa Claus arrival. So glamorous she is. Join us. Enjoy the happy Merry Christmas.