What did you think of this game?
Prom Preparation
Makeover, Make up, Dress up, Party
Prom Preparation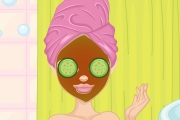 My prom will be held tonight in a huge palace so Im sure that everyone will be extremely fascinating Ive been dreaming of being the Prom Queen since I was a little girl. So you need to help me now Just pick the perfect dress for me but at first use these facial care products to beautify me
This game does not yet have any comments!