What did you think of this game?
Rain Drop game
Puzzle, Skill, Fun
Rain Drop game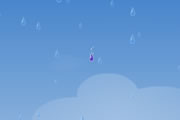 The main goal fall as far as you can. Get a move on Your drop is constantly shrinks avoid the raindrops bigger than you. Touch the raindrops smaller than you and grow
This game does not yet have any comments!