What did you think of this game?
Sea Bar game
Job, Food serving, Skill
Sea Bar game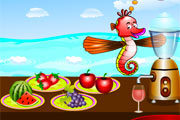 Who doesnt love fruity smoothies Anyone In this game you will serve fresh smoothies to fishes and try to manage your own sea bar. Take the order, serve the glass and collect money while having fun
This game does not yet have any comments!