What did you think of this game?
Snow Cones
Job, Cooking, Food serving
Snow Cones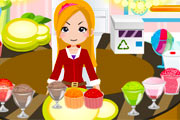 You have started a new business. Your job is to serve to right order to the customers. You will first take a plate, click on the right cupcakes and/or snow cones and then drag the plate with your mouse to its order. You have to throw away the wrong orders to the recycle box. Enjoy the colorful snow cones and cupcakes, and try to get the best score in each level
This game does not yet have any comments!