What did you think of this game?
Snow Princess
Princess, Fairy, Snow, Winter, Dress up, Fun
Snow Princess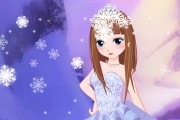 Even though its freezing outside, are you wondering who is helping us not to get cold Yes It is Snow Princess She is so cute and so perfect that she always does fairy thing to protect us Wanna meet her Then follow me there...
This game does not yet have any comments!