What did you think of this game?
Snow Queen
Snow, Winter, Princess, Queen, Dress up, Make up, Makeover
Snow Queen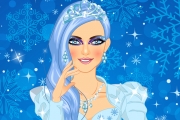 Now that its snowing out there, our beautiful and soft Snow Queen can show her perfect beauty to us But before she should get dressed. Well, she is so excited that she cannot decide what to wear, can you help her Just make her look like the most beautiful Queen around the world
This game does not yet have any comments!