What did you think of this game?
Spring Bride Nails
Make up, Dress up, Manicure, Wedding, Nail
Spring Bride Nails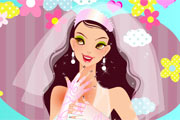 Beautiful Lilly will get married tomorrow. Today she must have a manicure to have nice nails at wedding. She wants to be a gorgeous spring bride Have your time to help her, design her nails and choose a wedding gown.
This game does not yet have any comments!