What did you think of this game?
Spring Make Up
Make up, Dress up, Makeover
Spring Make Up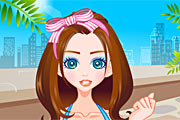 Spring or summer is a perfect time to try new styles in clothing with all the colorful stuff in shops. However, people seldom think about makeup. A nice makeup in vivid colors will make you stand out
This game does not yet have any comments!