What did you think of this game?
Stars Differences game
Puzzle, Skill, Kids, Differences
Stars Differences game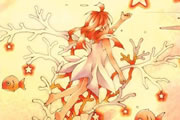 Bright and shiny stars have gathered up in this unique difference game. Start the quest for the most interesting little stars youve ever seen and spot the differences in the two pictures filled up with these tiny elements. Follow the children in their joyful dance among the stars in each of the ten levels and make a wish to help you find all differences that will make you the master of the galaxy. Soft colors and dynamic images will complete your experience as this difference game will take you to the stars and back.
This game does not yet have any comments!