What did you think of this game?
The Fame Johnny Depp
Celebrity, Dress up
The Fame Johnny Depp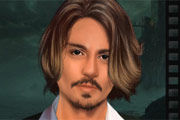 He was a chocolate lover than he became the pirate of the Caribbean he tried to find the Neverland, and lately he made hilarous hats as The Mad Hatter Now hes invited to the Academy Awards, so he needs a great look on the red carpet. Can you help him
This game does not yet have any comments!