What did you think of this game?
The Fame Leonardo di Caprio
Celebrity, Fame
The Fame Leonardo di Caprio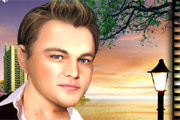 The 36yearold actor had a diverse career as a movie star. He made us cry while playing his role as Juliets Romeo or the passionate lover Jack in Titanic. He totally surprised us in Catch Me If You Can he impressed all of us once again in Inception. I wonder what will be his next role on the movie screen. Do you
This game does not yet have any comments!