What did you think of this game?
Valentine's Day Makeover
Valentine, Love, Couple, Date, Dress up, Makeover, Make up
Valentine's Day Makeover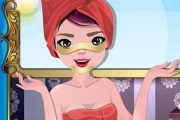 Oh I have a date tonight, yeay Me and my boyfriend will be celebrating the Valentines Day tonight with a perfect dinner. So I should look like a princess Well, I need to start with facial caring products then can you help me pick my dress Thank you so much
This game does not yet have any comments!