What did you think of this game?
Valentiner
Puzzle, Love, Treasure, Miner
Valentiner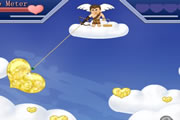 Use your crossbow to grab gold and other treasures out of the sky. Once it has grabbed something it will pull it up. Heavy objects like rocks and large love nuggets will be harder to pull up.
This game does not yet have any comments!